A.C.T. Inc., also known by our brand, EXPOCAD®, offers software products and services that are the professionals' choice when it comes to complete event management and exhibitor marketing. Our latest platform, 3e Powered by EXPOCAD®, is an end-to-end ecosystem that begins at the Venue to the General Service Contractor to the Show Organizer to the Exhibitor to the Attendee.

Our professional grade products are designed to suite the needs of each unit that begins with automated floor space layouts, electrical grid plans and 3D booth design for Venues and General Service Contractors.

The show organizers solutions offer behind the scenes and easy to use floor plan management tools that auto-retain and auto-place exhibitors in intelligent floor plan drawings completely integrated with what the General Service Contractors are utilizing. The show management teams have all floor plan and exhibitor data at their fingertips complete with financial data for behind the scenes needs.
On the public and published online side, interactive floor plans with exhibitor showcases offer a unique view of the show and the participating exhibitors. Exhibitors have multi-level marketing opportunities to gain the most exposure from logos in the banner bars or space surrounding the floor plans to publishing videos about their products and services.
Attendees have the freedom to research the event online using interactive features to view exhibitors and their products and services 24/7 at their leisure, pre and post show.
Designed by professionals for professionals, our products are seamlessly integrated, dimensionally accurate and rich with revenue creating features. Nearly $1 billion dollars in space is managed by an EXPOCAD® solution annually.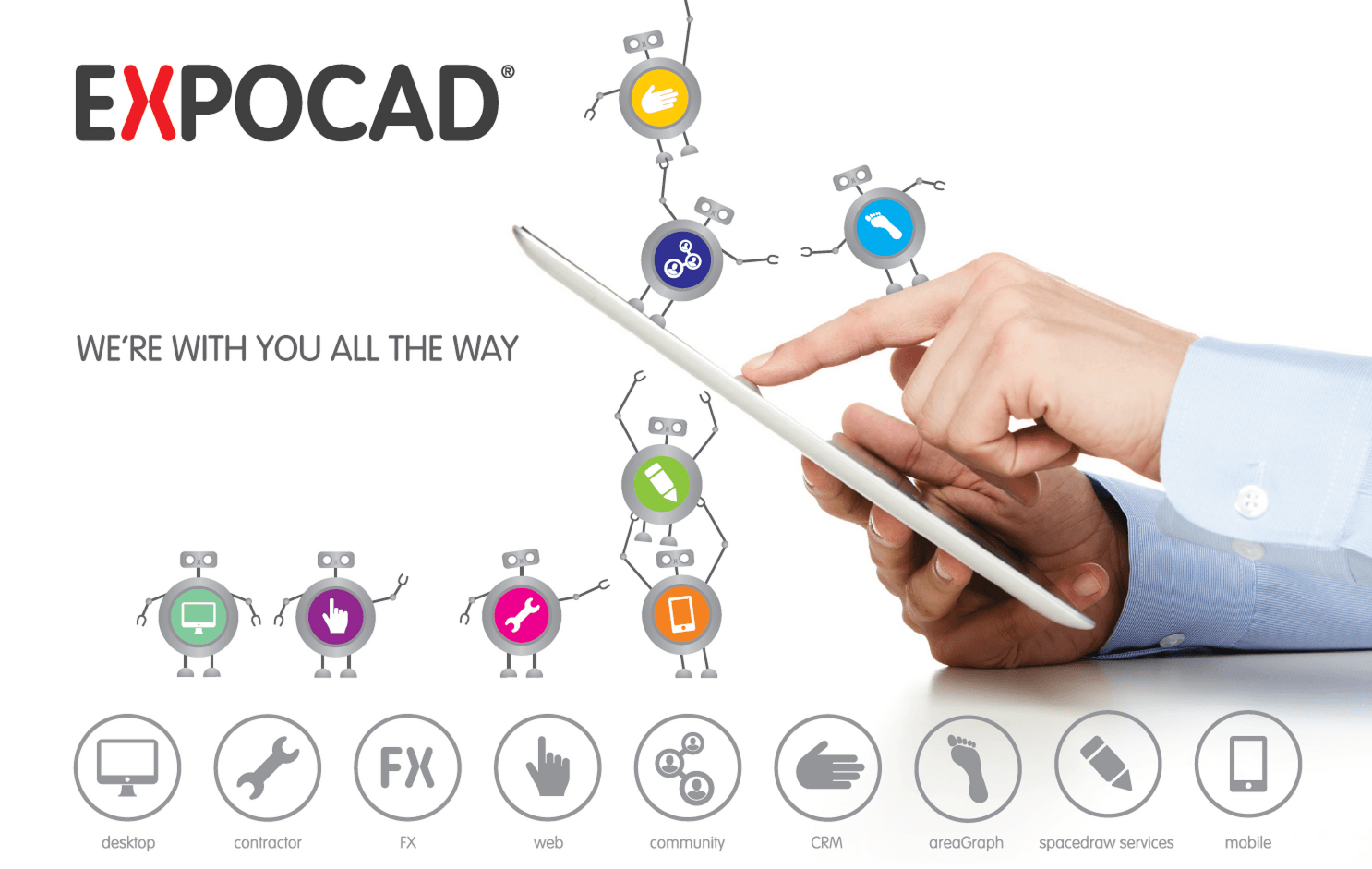 We are the exclusive software developer and provider to the General Service Contractors in the US and abroad who utilize EXPOCAD® Contractor to design every floor plan for all their customers.

The GSC community appreciate working with EXPOCAD® clients as they can easily share accurate floor plan and exhibitor details with easy automation tools.

Who utilizes our products? Show organizers in the trade, corporate, consumer, festivals and fairs industries.